Intro header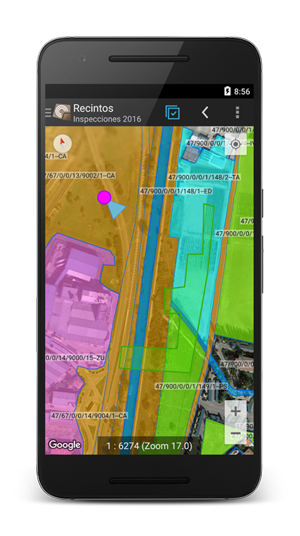 Bloque 1
CartoDruid is an Android™ application developed at the Instituto Tecnológico Agrario de Castilla y León (ITACyL). The application is intended as a support tool for fieldwork tasks, which tries to solve the problem of the use of geographic information outside the office in a disconnected environment, for consultation and editing.
Since mobile coverage is not always available, especially outside the urban environment, it is necessary to provide a solution that does not rely on connected map services. CartoDruid allows to view and edit vector and raster layers present in the device. Supported formats are Sqlite, and in near future the integration of ESRI Shapefile (.shp) files in both read and write mode.
GIS_NOGIS
---
Land Parcel Identification System
directly on your mobile device
In many areas, mobile coverage is insufficient to be able to use applications that consult cartography through mobile data connection (Land Parcel Identification System (LPIS), Cadastre, Google Maps, ...).
CartoDruid can be used without problems in these areas, you can download the cartographic information you need (parcels, polygons, municipalities, orthophotos, ..) and work with it directly on the mobile device without data coverage.
---
Raster and vector data
Offline
In many areas of the field mobile network coverage is non-existent or insufficient, so connected solutions (data on the server) are not the best option if data capture is needed anywhere or large volumes of information are managed.
CartoDruid tries to solve the problem of disconnected geographic information edition through a powerful mobile tool that allows working with vector and raster layers.
CartoDruid can also consume online map services: Google Maps, Web Map Services (WMS), ...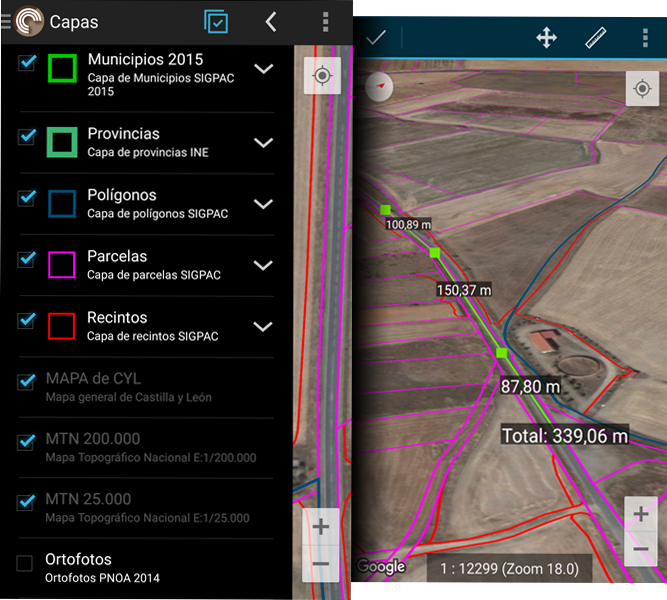 ---
Associates information with terrain features
Link all the information you need to its real location, easily and uniformly, and export it later to work on your computer.
CartoDruid allows you to draw on the map elements of reality (streetlights, rivers, parcels, ...) modeled like points, lines or polygons, and associate the information you need in your tasks using forms.
The tool includes a multitude of drawing options (pivots, GPS, manual, ...) to collect terrain features.
---
Point, polylines and polygons
Edit vector data easily
The CartoDruid Geometry Editing Engine brings the full power of the GIS edition of point, line and polygonal map features.
Edit and create geometries by drawing them directly on the screen or using GPS. It gives a great power collecting and editing geographic data in the field.
Quick, easy and right in the field.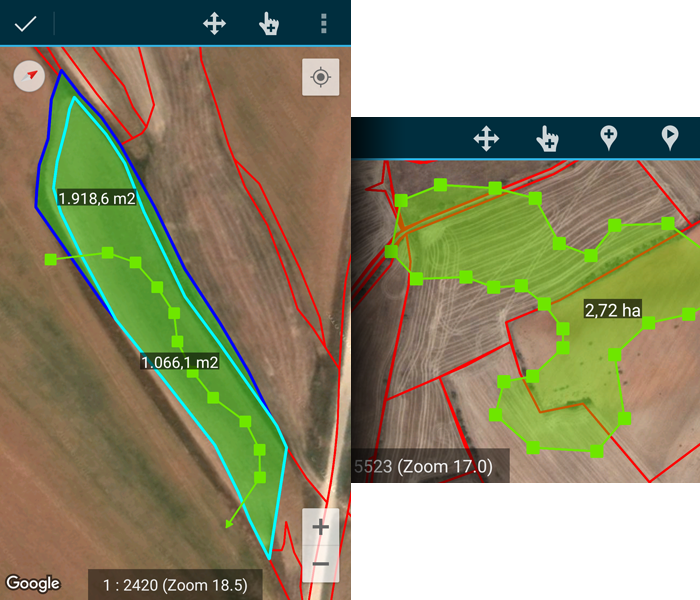 ---
Create custom forms and collect alphanumeric data
With CartoDruid you can create specific forms to record the information you handle in your work.
Create a layer or table with the fields you need and CartoDruid will help you in associate this information with an element of the terrain.
You can use these forms without using geographical layers and apply them to many sectors: surveys, marketing studies, collection of statistical data, ...
---
Custom forms to collect alphanumeric data in a simple way
The CartoDruid engine allows form creation for data collection in a simple way, and it can be used to collect data related to cartographic features as well as alphanumeric tables.
CartoDruid has a form management tool (FormuDroid) that allows the collection of data offline in projects without geographic data. This can be used for surveys, marketing studies in the field, collection of statistical data,...
Empieza
---
Start using CartoDruid today
CartoDruid does not require previous GIS knowledge for its usage and is easy to set up and use, so anyone can handle information everywhere and then export the recorded data to use it in other applications.
Use the data you already have in Shapefile files (.shp) (Beta Functionality) or transform them into SQLite so you can import then directly. You can also create new layers from the tool itself using LPIS parcel references quickly and easily.
Más con CArtoDruid
What more can I do with CartoDruid?
View Google Maps online.
Consuming WMS services online.
Use vector mapping loaded from a SpatiaLite database.
Use rater images from RasterLite o MBTiles files.
Simplify geometry depending configurable zoom levels (application performance improvement).
Manage table of contents: ordering, symbology, flat and tree organization to group layers under the same concept.
Zoom to selected geometries.
Zoom to visible geometries in the layer.
Create new work vector layers from the device.
Add support layers from the ITACyL cartographic repository.
Layers clean and delete utilities.
Define filters in vector layers to determine visible geometries based on attributes.
Define the symbologies and labels of the geometries based on SQL expressions.
Define display levels for layers and labels.
Define search queries on layers using SQL.
Configure tools that can be used on a layer: editi, crop, copy.
Configure topological rules in layers editing: overlap between features of the same layer and treatment of multipart features.
Support navigation to reach destination and current position tracking.
Create and manage favorite bookmarks.
Parcel searching.
Linear and area measurement tools.
Define measurement units measurement (square meters or hectares).
Work with simple and multipart geometries of any type: point, line and polygon.
Operate over multipart elements: creation through union and separation.
Draw geometries manually or based on GPS location.
Cut polygon features using hand drawn or based on GPS location.
Cut polygon Features using circles.
Join polygon Features.
Explode multipart features.
Transform elements: scale, rotate and displace of both the sketch and an already edited geometry.
Edit vertices of the existing geometries.
Attach photos and images to features.
Create new geometries intersecting layers.
Automatically record georeferencing data: data acquisition date, , ...
Create custom forms for collecting data associated with a layer or table.
Define custom form fields of any type supported by CartoDruid with its own user interface.
Define regular expressions for data validation and options to limit editing.
Organize forms based on tabs and separators.
Query on alphanumeric tables.
Load layers from the ITACyL cartographic repository.
Import data into vector layers from CSV or SpatiaLite files.
Geometry Loading from CSV from LPIS parcel references.
Export data in different formats: SQLite, KML and CSV.
contact us
Do you have questions about how CartoDruid can help you in your daily work? Need a custom development based on CartoDruid?
Access our Forum telling us your case.
We will respond and contact you to see how CartoDruid can help you to improve and streamline your work.